Is your sleeping position bothering you during pregnancy?
During pregnancy, you may find yourself struggling in bed trying to get relaxed before falling asleep. Unfortunately, during pregnancy your regular sleeping positions may no longer work for you.
There are numerous causes for this current discomfort, but there are some sleeping arrangements that you can seek that may help you get your much-wanted rest.
Why am I so uneasy in my normal sleeping positions?
Your body goes through a variety of changes when you are pregnant. These changes are likely to upset your usual peaceful sleep.
Reasons for your uneasiness may involve:
Back pain
Increased size of abdomen
Shortness of breath
Insomnia
Heartburn
What are the favourable sleeping positions during pregnancy?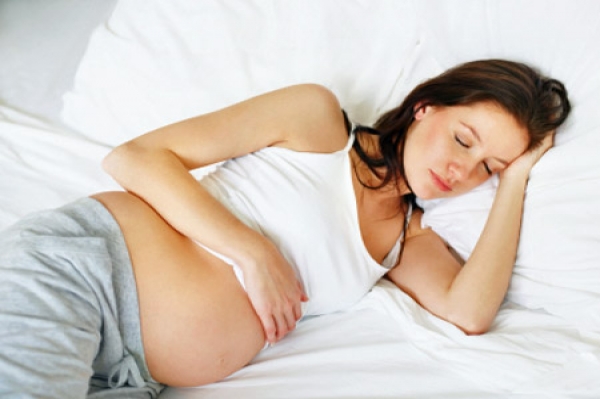 The best sleep position during pregnancy is "SOS" or sleep on side. Even preferable is to sleep on your left side. Sleeping on your left side will increase the amount of blood and nutrients that reach the placenta and your baby.
Put a pillow between your legs and keep your legs and knees bent.
Use the "SOS" position if you find that you are having problems with back pain, and try placing a pillow under your abdomen as well.
If you are encountering heartburn during the night, you may want to try supporting your upper body with pillows and keep your neach and upper body at a higher level.
In late pregnancy, you may encounter diminishing of breath.  Try lying on your side or supported up with pillows.
These recommendations may not sound totally comfortable, especially if you are used to sleeping on your back or stomach, but consider them.  You may find that they work. Remember that you may not stay in one position all night, and changing positions is fine.
What sleep positions during pregnancy should be avoided?
Sleeping on your back: This can lead difficulty with breathing, backaches, the digestive system, low blood pressure hemorrhoids and may reduce the circulation to your heart and your baby.
This is an out- come of your abdomen resting on your intestines and foremost blood vessels (the aorta and vena cava).
Sleeping on your stomach: When you are not far along in your pregnancy, your abdomen goes through physical transformations and makes it more problematic for you to rest on your stomach.
Tags
Pregnancy, Sleeping Disorders, Pre Pregnancy Care,
Note We at Medikoe provide you with the best healthcare articles written and endorsed by experts of the healthcare industry to boost you knowledge. However, we strongly recommend that users consult a doctor or concerned service provider for expert diagnosis before acting on this information.