BODY LIFT (Tummytuck & Buttock Lift)
A body lift combines a tummy tuck with a buttock lift. While it is a much greater procedure to recover from and has a higher chance of needing a stay in the hospital, the results can be extremely dramatic.
An incision in made all the way around the body to remove skin both in the front and the back. Improvement in the buttock, back, lateral thighs and abdomen can be dramatic.
Outpatient surgery center. The majority of patients go home the same day. You should arrange for someone to care for you for a minimum of 24 hours and to have some help off and on over the next few days. The surgery can take anywhere between one and five hours depending on the exact procedure.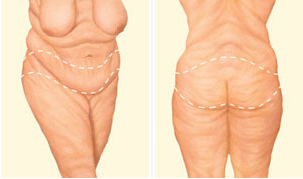 Recovery
You will have swelling and a variable degree of discomfort afterwards. Pain medication is also prescribed. Post operative care will be taught by our recovery nurses. You should expect to feel tired and sore when you leave. On rare occasions (more frequent with body lifts) a hospital stay will be needed
While you may not be able to stand straight you should be walking some in the days following. Frequent post op visits will be required to check on your incisions and to remove your drains. Light activities may be allowed a few weeks after surgery but it may be six weeks before full activity is allowed. Return to work for desk type activities is usually in about two weeks although some recover faster and some slower. If your job requires lifting and straining, it will certainly be longer.
You can expect some swelling to last weeks to months and the scar can take a year or more to completely mature. You will be advised on how to improve the appearance of your scar. As with any cosmetic procedure touch ups may be needed.
You will be responsible to control your weight and exercise after fully healing. Your results will be long lasting as long as you take care of yourself.
Tags
tummy tuck, breast lift, buttock lift, Cosmetic Surgery,
Note We at Medikoe provide you with the best healthcare articles written and endorsed by experts of the healthcare industry to boost you knowledge. However, we strongly recommend that users consult a doctor or concerned service provider for expert diagnosis before acting on this information.